American Tune: Simon, Croce & Taylor takes you on a magical trip back to the 1970s to experience the timeless music and prolific songwriting of Paul Simon, Jim Croce and James Taylor. Relive the intimate storytelling, intricate chord changes and breathtaking melodies of these gifted artists – their work building on and transcending the more traditional folk-influenced acoustic music of the previous decade.
Award-Winning Tom Glynn is a John Lennon Songwriting Contest winner and a Boston Music Award nominee for Outstanding Songwriter. Several of his songs have been chosen by NSAI (Nashville Songwriters Association) for their coveted Top 40 honor, and his music has been featured on ABC, Fox, Lifetime and Showtime. His 2023 album "Skylight Intervention" was the most added album to folk radio stations across the country in its first week. It featured a cover of Jim Croce's "Operator (That's Not the Way It Feels)" that has received extensive airplay. The Boston Globe calls Tom "a tunesmith at the top of his game."
American Tune: Simon, Croce and Taylor showcases the songs you know and love from these master craftsmen during this brilliant span, framed in engaging stories about the artists themselves.
Videos
---
Photos
---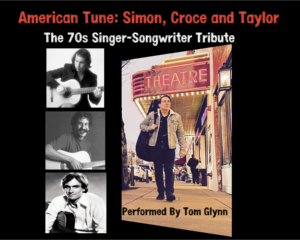 Downloads
---
General
Electronic Press Kit
Due to EPK file sizes, these can sometimes trigger anti-virus software flagging them as potential threats. If you receive an anti-virus warning when downloading, please disregard as all of our files are safe for download. Feel free to contact us with any questions or concerns.
Program
Technical