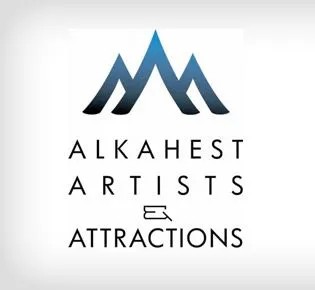 About Alkahest Artists & Attractions
Established in 1896 as The Alkahest Lyceum System, The Alkahest Agency is the country's first lecture, concert and theatrical booking management company. Its founder, S. Russell Bridges, Sr. (1870-1958), later renamed the company "The Alkahest Celebrity Bureau."

As you might expect, we are often asked where the name "Alkahest" comes from and what it means. According to Funk & Wagnalls, it is an old Arabic word meaning "hypothetical universal solvent." Perfect! Nothing will ever come close to replacing what live performance art does at its best … transporting all of us, men and women, young and old, to another place, another time, another day. Yes, live performance does change us and resolve us, for a fleeting moment, or even for a lifetime.

In the days of the Chautauqua tent shows, Alkahest brought celebrities such as Winston Churchill, Prince William of Sweden, Enrico Caruso and Marian Talley to the United States. S. R. Bridges booked the controversial William Jennings Bryan-Clarence Darrow debates, Will Rogers, W. C. Fields, Amelia Earhart, three U.S. Presidents, and many others. Additionally, concert artists, ensembles, and touring groups were booked in various forums, college campuses, and community artist series.

Beginning in 1950, Ralph P. Bridges (1919-1986) presided over Alkahest and pioneered Mutual Concert Series, the first organized community concert series; he later expanded this division to bring the performing arts to more than 100 rural towns in the Southeast. Later, the business was renamed The Alkahest Agency, Inc. In 1958, Ralph established the Famous Artists Agency and presented many of the biggest names in the music and theatre industry.

In 1985, Scott A. Bridges (1950-2008) joined his father in the business and reintroduced special attractions and touring Broadway productions into the roster. With his gifts of marketing and creative design, Scott was instrumental in leading Alkahest from pen and paper onto the cyber highway. In 2004, Scott renamed The Alkahest Agency to Alkahest Artists & Attractions and managed the agency with his wife and partner, Elizabeth Bridges, until his untimely death in 2008.