Prepare to be dazzled by this scintillating new show acclaimed as musical theatre at its finest!
Sizzling dance numbers, nostalgic ballads, and romantic comedy, all backed by live musicians and set under the Paris sky-you'll believe you are watching Gene Kelly and Cyd Charisse trip the light fantastic.
Straight from the Broadway Stage these two triple threats are brimming with charm and charisma. Your audience will thank you for bringing the dancing, singing, musical comedy sensation Embraceable You to your theatre!
"Dean and Lisa Ferguson Balkwill assisted by four purveyors of syncopation blew the breath of life back into post-war Paris 1948 never sounded so great. They sing; they dance; they act with aplomb. Their self-assurance and joie de vivre were apparent from the opening strains of "I Got Rhythm" to the closing refrain of "Embraceable You." ~ Christine Wiese, Ida County Courier
Videos
---
Photos
---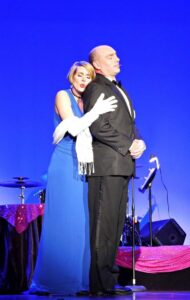 Downloads
---
General
Technical
Program
Electronic Press Kit
Due to EPK file sizes, these can sometimes trigger anti-virus software flagging them as potential threats. If you receive an anti-virus warning when downloading, please disregard as all of our files are safe for download. Feel free to contact us with any questions or concerns.
Review