What makes American music "American?" Gwen Hughes and The Hitmakers will take you on a journey of the country and the distinct regional influences that all come together to create "American Music" as a sound all its own.
In this 90-minute concert that covers over 25 classic hits, Gwen leads the audience on a freewheeling & fun history lesson of American Music – from blues to country to jazz to rock n' roll to hip hop and beyond. Many of these genres originated in the rural South but then morphed into the sounds we know today because of the culture in cities like Chicago and New York, then later the sunshine of California.
Along with artists like Elvis and Johnny Mercer, the band reinvents songs by Aretha Franklin…Jimmy Buffett, Outkast, Hootie & The Blowfish…James Taylor…Hank Williams…Bruce Hornsby…AI Green…Justin Timberlake…and the list goes on and on.
"Gwen Hughes & The Hitmakers Play American Gold" will feature audience song requests and participation. It's all about the audience and what these songs mean to them.
"American Gold" is a show for everybody. It really engages the folks in the audience and makes them a part of the show! A great tribute to the history of American popular music." ~ Tom LaDow, Chukkar Farm Concerts
"Thanks again for an amazing visit!! Hope you had as much fun as the audience did. Thanks again for sharing the evening with Newnan."
~ Cathe Nixon, The Donald W. Nixon Center for Performing & Visual Arts (Newnan, GA)
"She swings lightly from come-hither cabaret diva to serious pop interpreter to playful entertainer, indulging in liberating vocalese."
~ Atlanta Journal Constitution
"American Gold" is a fabulous show and not to be missed! Our concert goers were totally entertained and impressed by this wonderful musical presentation. " ~ The Sautee Nacoochee Cultural Center
Videos
---
Photos
---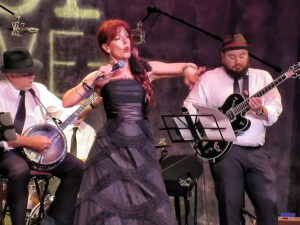 Downloads
---
General
Technical
Program
Electronic Press Kit
Due to EPK file sizes, these can sometimes trigger anti-virus software flagging them as potential threats. If you receive an anti-virus warning when downloading, please disregard as all of our files are safe for download. Feel free to contact us with any questions or concerns.
Arts In Education