Atlanta icons Gwen Hughes and Ruby Red's join forces to create "Gwen & The Retro Kats." The Retro Kats are the bee's knees of swing bands bringing back ragtime fun coupled with fresh takes on more contemporary music. This is a band that knows its onions when it comes to keeping the party hotsy-totsy. When you want to wear a boa and get a little zozzled – this band is the cat's (or maybe the KAT'S?!) pajamas.
The 'Kats exhume the excellence of the past hits like "Cakewalkin Babies From Home" and "Sentimental Gentleman from Georgia" then move into crowd favorites like "I'll Fly Away" & "Butter Beans." The band delights in putting contemporary music in this retro setting – songs from ZZ Top, Macklemore & Lewis, Elle King (among others) make their way into the set list, too. It's a night of swing, blues, gospel and songs from every era in a joyful Americana setting.
(The Retro Kats love Arts in Education and Have Great Options for Your Community and Students and offers a band from 4 pc to 7 pc lineup!)
"Gwen swings lightly from come-hither cabaret diva to serious pop interpreter to playful entertainer, indulging in liberating vocalese."
~ Atlanta Journal Constitution
"All in attendance last Monday had a fantastic time being entertained." ~ Morton Fine Arts Association, Morton, IL
"My wife and myself had a great time today listening to your band. It brought back a lot of good old memories." ~ George Novak, Honorary Consul General, The Chech Republic
Videos
---
Photos
---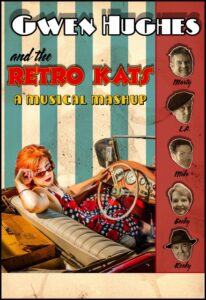 Downloads
---
General
Electronic Press Kit
Due to EPK file sizes, these can sometimes trigger anti-virus software flagging them as potential threats. If you receive an anti-virus warning when downloading, please disregard as all of our files are safe for download. Feel free to contact us with any questions or concerns.
Program