Let's Hang On! pays tribute to one of the greatest vocal groups of all time, Frankie Valli and The Four Seasons, showcasing their mega-hits.This polished stage show features four outstanding male vocalists and two talented female artists who sing and dance their way through some of the best songs of all time.
Unlike other tribute acts, these performers are backed by a live band. Re-live the classic "Jersey Boy" sound and look, centered around Frankie Valli's vocal virtuosity, the group's tight four-part harmonies and crisp dance moves. You'll hear Sherry, Big Girls Don't Cry, Walk Like a Man, I've Got You Under My Skin, Can't Take My Eyes Off Of You, December (1963), Who Loves You, My Eyes Adored You, Silence Is Golden (a capella) and Let's Hang On! as well as some other popular hits of the 60's.
This nationally touring show has been playing to sold out audiences all over America for the past 6 years, from Las Vegas to New York. Don't miss the chance to see this electrifying show!
"This is more than a tribute to Frankie Valli. It's a brilliant piece of musical showmanship that will leave you breathless! THAT'S ENTERTAINMENT! They have had 3 bookings at the Golden Apple, 3 sold out houses, 3 standing ovations, this show makes good things come in 3's, 4's, 5's……..See it!!!!!!!" ~ Robert Turoff – Golden Apple Dinner Theatre, Sarasota, FL
"They are phenomenal. We have been inundated with email and phone calls on how much they loved them. We were really blown away." (Attendance: 3,000) ~ Jerry Somma – President Jupiter Feast of Italy, Jupiter, FL.
"I am a HUGE fan! We opened the season with a sold out show of over 1,000!" ~ Susan Agin – Queensborough Perf. Arts Center, Bayside, NY
Videos
---
Photos
---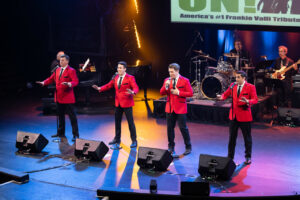 Downloads
---
General
Symphony News and Notes
Review
PBGLifestyle.com
Various Review
Electronic Press Kit
Due to EPK file sizes, these can sometimes trigger anti-virus software flagging them as potential threats. If you receive an anti-virus warning when downloading, please disregard as all of our files are safe for download. Feel free to contact us with any questions or concerns.