Sail On plays the music of "America's Band", The Beach Boys. Performing all of the group's classic hits, plus some treasures from The Beach Boys' brilliant extended catalog, Sail On faithfully recreates the timeless songs of surfing, cruising, dancing, and dreaming for all ages, and anybody that wants to have Fun, Fun, Fun.
Based in Nashville, TN, USA, Sail On performs over 100 shows every year enjoying the unique challenge and privilege of bringing one of pop music's greatest legacies to audiences everywhere.
"Sail On" was the perfect tribute band for our event. Their harmonies captured the sound of the Beach Boys and transported our guests to the beach for the evening! Matt, manager and musician, put my mind at ease from the very first time we spoke; the process was smooth and the follow through with all the details was amazing. The band worked closely with the venue to ensure all details were covered and there were no hidden surprises. We had many compliments from our guests with regards to "Sail On". I would definitely hire the band again." ~ Karla Bryant, National Event Planner – Ingram Ent.
Videos
---
Photos
---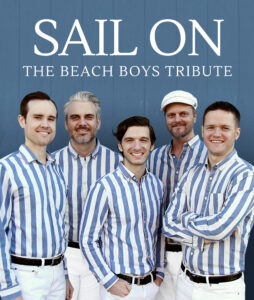 Downloads
---
Review
Electronic Press Kit
Due to EPK file sizes, these can sometimes trigger anti-virus software flagging them as potential threats. If you receive an anti-virus warning when downloading, please disregard as all of our files are safe for download. Feel free to contact us with any questions or concerns.