Motown's Super Groups, a salute to the legendary stars of Motown such as The Temptations, The Four Tops, The Supremes, Marvin Gaye, Tammi Terrell, Smokey Robinson, Stevie Wonder, and many more. This nostalgic class-act production will keep the audience dancing from start to finish!
Entertainer and leader Dave Revels, formerly of The Drifters group which featured Hall of Fame members Charlie Thomas and Elsbeary Hobbs, created Shadows of the 60s with musicians and singers that have played on broadway and with many legends.
Along with Dave's leadership, this fascinating production is under the musical direction of Melvin Miller Jr., guitarist, who was mentored by and played alongside members of Motown's famed backup band, The Funk Brothers and was the protégé of The Supremes' musical director, Teddy Harris, Jr. and legendary Motown songwriter/producer team, Holland, Dozier, Holland.
The musicianship, the wall of sound of voices in perfect tune will fill your audience with awe. These entertainers know how to connect with an audience and make everyone feel as though they are personally being serenaded.
For Holiday Show
SHADOWS OF THE 60'S pays tribute to the tremendous legacy of Motown's Super Groups, a salute to the legendary stars of Motown such as The Supremes, Marvin Gaye, Gladys Knight, Smokey Robinson, Mary Wells, Stevie Wonder, The Temptations, and The Four Tops. This special and interactive production features all the big Motown hits but also the well-known Motown holiday tunes which makes for a fun and exciting experience for the whole family. This is a night that your loved ones will remember!
Featured Holiday Hits:
Santa Claus is Coming to Town
Santa Baby
Rudolph the Red Nosed Reindeer
Silent Night
White Christmas
"I grew up in the midst of the music explosion of Motown Greats and that music is deep in my roots… Dave Revels and Shadows of the 60s faithfully celebrate The Four Tops with an accuracy, reverence and joy that is too often missing. They blew me away." ~ Paul Stanley of KISS, Rock & Roll Hall of Fame Inductee 2014
"Simply fabulous!!! What a tribute to many wonderful legends of Motown with a performance that is legendary in my mind. The quality of the performers and their passion of the music with the interaction of the audience made for a perfect evening of entertainment." ~ Mark from Jackson Community College's Potters Center, Jackson, MI
"The holiday show is a high energy explosion of talent that had the audience on their feet and cheering for more!" ~ Kass Prince, Executive Director, Irving Arts Center, Irving, TX
Videos
---
Photos
---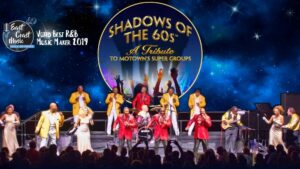 Downloads
---
Program
Songlist
Arts Outreach
"Holiday Tribute To Motown"
Electronic Press Kit
Due to EPK file sizes, these can sometimes trigger anti-virus software flagging them as potential threats. If you receive an anti-virus warning when downloading, please disregard as all of our files are safe for download. Feel free to contact us with any questions or concerns.
Symphony News and Notes