The Diamonds released an instant million selling hit in 1957 called Little Darlin'. Since dubbed the National Anthem of rock and Roll, the song soon went gold and led to a career that saw the group appear on American Bandstand 33 times and be inducted into both the Doo-Wop Hall of Fame and the Vocal Group Hall of Fame. Little Darlin' was soon followed by two more gold records, The Stroll and Silhouettes. All three have been featured on soundtracks of the movie American Graffiti and the mid-70s television hit, Happy Days.
Showcasing their signature four-part harmony and accented by their abilities as instrumentalists, The Diamonds have now taken the Classic Rock & Roll genre to a new level of excellence. They are ideal for Performing Arts Theatres, Symphony Pops concerts, and as special events in private and corporate functions.
Through the years since the release of Little Darlin' THE DIAMONDS have learned one important lesson—the durability of this classic rock and roll music is as much about the future as it is about the past. As a result, THE DIAMONDS continue to expand their audience to this day,… "We've been pleased to find a growing audience among all age groups. They love songs they can understand, remember and actually sing the words to—today, tomorrow, or even 20 years from now."
The standing ovations and return engagements are the proof, The Diamonds will provide a musical event that will be remembered for years to come. Concerts of classic rock & roll in "The Diamonds in Concert", "Bandstand Boogie", "Let's Rock Broadway", or "Silver Bells & Diamonds" are each designed and produced to highlight your series or special event with class, style and pure entertainment.
Videos
---
Photos
---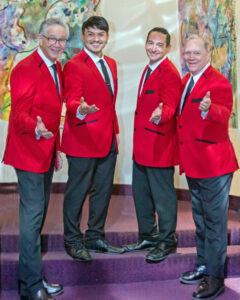 Downloads
---