Born out of a love for a cappella music and vocal harmonies, The Edge Effect is a five-man vocal band that is taking vocal music to new heights. Consisting of winners of MTV's "Top Pop Group", Boyz II Men's "Next Great A Cappella Group" and "America's Got Talent" finalists, the members have shared the stage with musical legends such as Prince and Stevie Wonder, Tony Bennett and David Foster, and have entertained Fortune 500 audiences, high level VIPs, as well as audiences for Walt Disney World, Royal Caribbean Cruise Lines, Gaylord Resorts, IBM, CITGO and many, many more. Their high energy performances, audience interaction and ability to completely customize make them the perfect highlight for any concert series or special event.
With over a decade of experience performing for high level clients and events , EDGE EFFECT is a collection of All-Star vocalists each with a unique personality and sound, who have come together to form an amazing vocal experience that must be seen AND heard.

"ICONS: The Show!" is a 90 minute, all vocal tribute to some of the greatest music of the last century. Audiences will witness a highly interactive, Las Vegas style production that showcases the power of the human voice. The gentlemen of The Edge Effect will keep your audience engaged from curtain open to close as they sing songs from legendary artists such as Frank Sinatra, Stevie Wonder, Michael Jackson, Chicago, Billy Joel, Elton John and many more!

"Holiday Show" was recently featured at Walt Disney World's "Mickey's Very Merry Christmas Party". Their contemporary takes on holiday classics, fresh new spins on traditional favorites, and interactive sing-alongs make for a high energy performance of music for the whole family.
Videos
---
Photos
---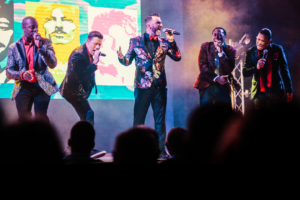 Downloads
---
Program
Electronic Press Kit
ITSTEE-EPK
Due to EPK file sizes, these can sometimes trigger anti-virus software flagging them as potential threats. If you receive an anti-virus warning when downloading, please disregard as all of our files are safe for download. Feel free to contact us with any questions or concerns.
Review