The Folk Legacy Trio are George Grove, formerly with the Kingston Trio for over 40 years; Rick Dougherty, also formerly with the Trio for over 12 years, and Jerry Siggins, former lead singer of a 50's Rock n Roll band, The Diamonds. Singing from the Great American Folksong Book™, a Folk Legacy Trio concert includes songs from The Weavers, The Kingston Trio, The Limeliters, Peter Paul & Mary, The New Christy Minstrels, The Chad Mitchell Trio, Tom Paxton, Judy Collins, Joan Baez, Gordon Lightfoot, Simon & Garfunkel, John Denver, and others. It is a trip through Americana Musical History, as well as great harmonies singing some of the most wonderful and beloved songs ever written.
"The Folk Legacy Trio performed to an audience who anticipated and expected a good performance, but got a great performance. And the quick sellout required an added performance. These guys delivered!" ~ Jim O'Neil, Rubicon Theatre.
Videos
---
Photos
---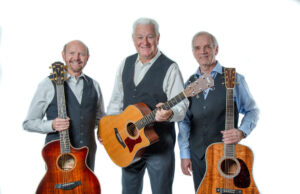 Downloads
---
Electronic Press Kit
Due to EPK file sizes, these can sometimes trigger anti-virus software flagging them as potential threats. If you receive an anti-virus warning when downloading, please disregard as all of our files are safe for download. Feel free to contact us with any questions or concerns.