The Four Freshmen – Four parts harmony, a twist of elegance, with a splash of swing, and a whole lot of fun! A vocal harmony like no other. Now in their 62nd year of performance, The Four Freshmen continue to bring their unique brand of vocal harmony to audiences worldwide. The legendary sound that began in 1948 with Bob, Don, Ross and Hal continues on in the 21st century…
Whether performing with a full symphonic orchestra, in front of a big band, or playing self-contained, Tommy, Ryan, Bob, and Jake, along with their unmistakable sound continue to thrill audiences all over the world.
The exciting presentation of these consummate entertainers offer arrangements, audience-pleasing charisma and humor for any occasion including the jazzy sounds of the quartet to the charge of a big band as well as the lush sounds of a symphony orchestra. A show with the Freshmen is sure to entertain. As the Wall Street Journal exclaims, "Long live The Four Freshmen. May they never graduate!"
"The Four Freshmen ~ America's most enduring vocal group. Headlining concerts around the globe from Moscow to Manhattan. Their repertoire includes a variety of pop and jazz standards from the Great American Songbook Classics. Four amazing musical talents. Their show is not to be missed! Whether accompanied by a big band, symphony or simply self contained, their youth, vitality and talent adds an unforgettable twist of elegance to an already unmistakable sound. The Four Freshmen are great gentlemen of song and true masters of harmony!"
Videos
---
Photos
---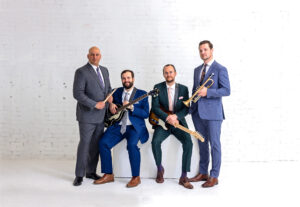 Downloads
---
General
Symphony News and Notes
Instrumentation
Press Release
Reading Pops (review)
Electronic Press Kit
Due to EPK file sizes, these can sometimes trigger anti-virus software flagging them as potential threats. If you receive an anti-virus warning when downloading, please disregard as all of our files are safe for download. Feel free to contact us with any questions or concerns.
Program
Arts in Education
Review
Technical