"WAR BONDS: The Songs and Letters of World War II " is a musical journey through a war that redefined the world. This multi-media living history cabaret is interspersed with personal letters from the Front and headline news of the period. The production is a warm reminiscence and a harrowing reminder of a time that is not unlike the present. The cabaret is created and performed by Serena Ebhardt and David zum Brunnen of EbzB Productions. Jane Lonon of the Ashe County Arts Council in North Carolina says, "War Bonds is a well crafted work by two of the best in the business. It leaves audiences with smiles and tears."
David zum Brunnen and Serena Ebhardt fill the stage with wartime memories and tunes. Actual veterans' stories create a sentimental journey back to the days when blackouts and rationing were a small sacrifice in order to obtain freedom. A time when Rosie the riveter discovered she could take care of herself; a time when African-Americans, who were held down at home by Jim Crow, became war heroes overseas; and when a man's only wish was to be home for Christmas. "WAR BONDS: The Songs and Letters of World War II" explores the dark side of war and the strange juxtaposition of the light hearted, popular tunes of the time.
"It was indeed a pleasure to work with WAR BONDS. What a beautiful project to present to the world in such a captivating manner. The letters made me think of my father, who was a musician and in the Air Force (prior to my birth). Even though he left us in 1997, I have lots of photos, and this show brought the memories of my father, as well as thoughts of many other family members that are currently serving in the armed services. I will watch the DVD and probably order several copies for family and friends that I know would enjoy such a presentation. Perhaps we'll have a couple of nights to do this at another point. I look forward to watching the DVD from a true audience member perspective—no counting and concentrating on entrances! – Thanks again for your professionalism and joy that you brought to many through memories and a stellar performance. It would be my pleasure to work with you guys anytime, and anywhere." ~ Wycliffe Gordon, Jazz Trombonist, Manhattan School of Music
Videos
---
Photos
---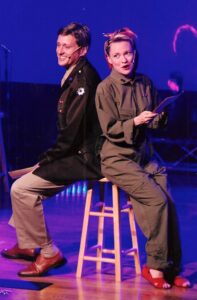 Downloads
---
General
Arts In Education
Program
Technical
Review
Electronic Press Kit
Due to EPK file sizes, these can sometimes trigger anti-virus software flagging them as potential threats. If you receive an anti-virus warning when downloading, please disregard as all of our files are safe for download. Feel free to contact us with any questions or concerns.