Rex Havens has been a nationally-touring professional comedian for almost 20 years. He has appeared on HBO, Showtime, Comedy Central and Comic Relief as well as opened for Jerry Seinfeld, Jeff Foxworthy, Tim Allen and more. Rex's comedy pays tribute to the strong, funny women who drag men kicking and screaming into manhood. This is family-friendly comedy for all ages.
"Women and Children First" is much more than a stand-up comedy show, utilizing over 500 still images, 10 video and 15 audio clips in a lightning-fast presentation that leaves no time to catch your breath. (As an added incentive: Rex Havens will perform in a half set with musicians as the other half and he is often asked to present his comedy as an opening act.)
"Rex's team can create any top notch-professional grade print, radio or TV ad a client might want, at no charge to client except what it costs to run the ads."

Booked by special arrangement with Patricia Alberti Management
Videos
---
Photos
---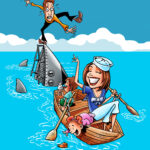 Downloads
---
General
Electronic Press Kit
Due to EPK file sizes, these can sometimes trigger anti-virus software flagging them as potential threats. If you receive an anti-virus warning when downloading, please disregard as all of our files are safe for download. Feel free to contact us with any questions or concerns.
Program
Technical